Gdansk Airport Arrivals (GDN)
Not all flights may be showing. If not available use search above to find your flight by airline, airport or flight number.
Origin
Airline
Flight no.
Scheduled
Est./Actual
Status
Kerkyra (CFU)
Ryanair
RR3060
06:17
05:56
Landed
Warsaw (WAW)
LOT
LO3831
08:10
Scheduled
Oslo (OSL)
Norwegian
DY1052
08:25
Scheduled
Stockholm (NYO)
Wizz Air
W61732
09:10
Scheduled
No flight arrivals were found at Gdansk Airport.
Flight Arrivals at Gdansk Airport
When you arrive at Gdansk Lech Walesa Airport you will arrive at Terminal T2, the new terminal. Terminal T1 is used to a limited extent and is only serving passengers departing for non-Schengen countries.
The arrivals hall of the airport is located on the ground floor of Terminal T2 with Schengen and non-Schengen passengers arriving through separate passport and customs controls sharing the same baggage claim area.
Transfer from Gdansk Airport, GDN
Once on land-side and in the main hall of the airport passengers have a few options for transfer to their destinations.
Pick up by car – The Kiss & Fly parking lot located next to the terminal offer the first 10 minutes of parking for free and while you are welcome to stay there longer for a fee it is recommended to use parking lot P1, located opposite the terminal building, for a longer parking period
Train - For those going to Gdansk, Sopot or Gdynia the train is an option, although it is important to know that most of the trains don't go to the main train stations, but to smaller ones in the commercial areas. This means a transfer on the other end is necessary in most cases. There are ticket machines on the train station platform and the cost of a normal ticket is PLN 5.50. The connection to the trains is located to the far left corner after exiting the baggage claim area.
Car rental – There are many rental car companies available at Gdansk Airport and the rental car desks are located to the left once luggage has been collected and the passenger is on land-side.
Taxis – There are taxi ranks located right outside the exit. The official taxi carrier is Neptun Taxi and it is advised to use them. No pre-booking is needed.
Buses – The public transport buses can be found opposite the taxi ranks outside the terminal exit. 4 lines service the airport, including a night bus to and from Gdansk. Out of the other three lines 2 go to and from Gdansk and one to and from Sopot.
PRM Assistance
For passengers requiring assistance due to a disability it is recommended to inform your airline of this when booking the flight, or at least 48 hours before scheduled arrival. This is to make sure the service can be provided in time. When assistance is ordered an assistant will meet you at a pre-informed location and assist you during your time at the airport.
Airport Chapel
Right next to the baggage claim area, on the right hand side after exiting the arrivals area, is the St. John Paul Chapel which is available to everyone. Holy Mass is held there every Sunday and holiday at 10.00, right after Confession which is held at 9.40 each Sunday.
Airport Shops
Travelers and their company can find some shops in the main hall as well as a couple of places to have coffee and something small to eat.
ATMs and Currency Exchange
Both ATMs and currency exchange services can be found in the main hall.
WiFi at Gdansk Airport
Free WiFi for up to 15 minutes is available to everyone. After the initial 15 minutes a fee applies to the use of the WiFi.
Toilets
There are several toilet areas located in both ends of the main terminal. There is a separate toilet facility with diaper changing table and wheelchair accessibility located to the left once out of the baggage claim area.
Lost Luggage at Gdansk Airport
The Lost Luggage desk for passengers arriving within Schengen is located in the baggage claim area near the Schengen arrivals hall. For passengers arriving from outside of Schengen the information of where to go if your luggage is lost can be found in the area.
Smoking
Smoking is only allowed in designated areas and on land-side that is in separate areas outside the terminal. There is no smoking inside the land-side of the airport.
Was your flight delayed or cancelled?
You may be eligible to receive up to 600 EUR compensation per person in your party..
Claim Now!
Lounge like a VIP
Avoid the crowds. Get discounted access to the VIP airport lounge. Its not as expensive as you may think.
Book now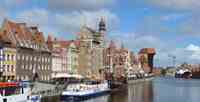 Things to see an do in and around the city of Gdansk, Poland